Bio
Shefali Bohra and Debra Babalola co-founded Dotplot during their master's programme Innovation Design Enigneering at Imperial College London and Royal College of Art. They both have a background in Product Design and share a common interest in solving for healthcare needs.
Shefali has previously worked as a Design Strategist at an AI company Fractal Analytics, delivering novel business enhancing tools and service recommendations to clients. Debra has worked at the German Aerospace Centre to develop an interaction for upper-limb prosthetics that helps users train their prosthesis.
Dotplot's goal of reducing breast cancer mortality rates by facilitating early detection entails the development of a product that consumers can readily accept and easily incorporate into their routines. The mission requires a lot of behavioral design input, bridging biological and technical knowledge as well as a heavy emphasis on user research. Shefali and Debra bring on-board the expertise required to deliver features of dotplot suitable to the user needs.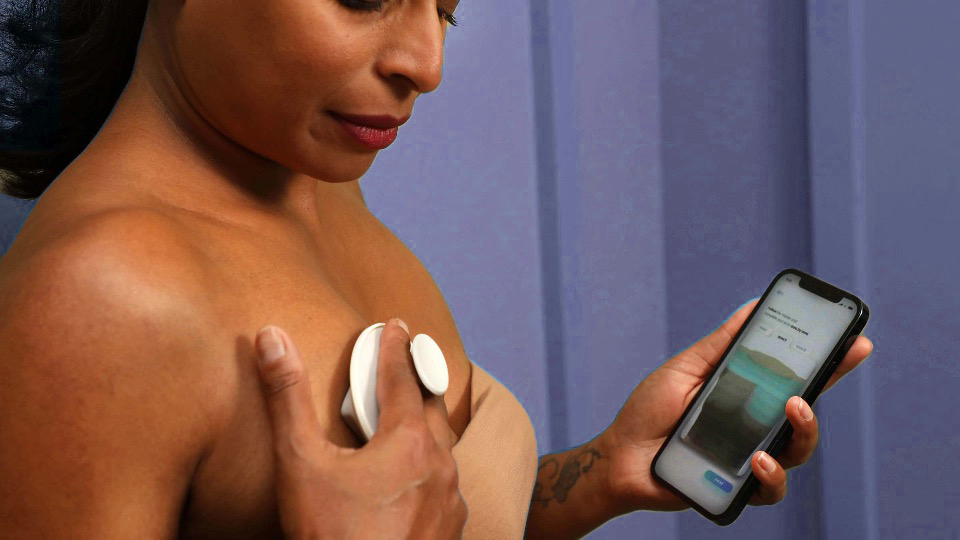 One sentence pitch
Dotplot is a handheld device that pairs with a mobile application to enable women to conduct self-checks at home to facilitate early detection of breast cancer.
Industry/Sector
HeathTech
Currently based in the UK. Global expansion includes the EU, USA and India
Company Investment Stage
Pre-seed
Grants: £97,061 Competitions: £82,000 Equity: £10,000
Company Locotion
United Kingdom, Office based in Battersea, London
Video
Problem
Breast cancer claims 115 women's lives daily in the USA. Despite the high mortality rate, women have no avenues to check their breasts regularly, resulting in delayed cancer diagnosis. Current guidance for self-checks is limited to pamphlets and tutorials, all proposing different methods. This results in confusion and non-adherence.
Solution
Dotplot offers a handheld device that identifies changes in breast tissue density over time. Paired with an app, it guides users through monthly self-checks and alerts them to abnormal changes. These can then be followed up with their GPs. The system assists the user in creating a 3D model of their upper chest to accurately map the device's location on the chest. The app then guides them through the self-check, highlighting the regions that have and have not been scanned.
Business Model
B2C
The device will be sold directly to consumers as an off-the-shelf product. Each device can be linked to multiple accounts, allowing for several users within the same household to share it. The company's revenue model involves selling dotplot as an annual/monthly subscription based service that provides users with access to its hardware and software.
B2B2C
Dotplot aims to partner with healthcare insurance companies in countires with private healthcare systems to reduce customer acquisition costs. This will also help reduce premiums on insurances.
For early adoption, Dotplot also aims to become a part of employee supplemental benefits for corporates
Competition
Market
Dotplot's market includes every woman aged 20 and above, which amounts to 2.7 billion potential users worldwide. The initial target users consist of health-conscious women and those with an increased susceptibility to breast cancer, totalling 178,000 individuals in the UK. In 2021, 2.3 million women were diagnosed with breast cancer globally and within the UK, USA, and India alone, 69.8 million women are expected to have breast cancer incidences during their lifetime.
Competition
Outside of clinical intervention delivered by a doctor (e.g. biopsies/mammograms) the only real solution is manual self-checks. While charities like CoppaFeel! encourage regular checking, self-checks are prone to human error and forgetfulness.
The only real 'innovation' available is awareness apps (e.gKnow-Your-Lemons), which are educational rather than deploying new technology to improve accuracy.
On the US market, iBreastExam is the next-in-class innovation. It uses dynamic pressure-sensors to quantify tissue stiffness variations. It has been US FDA approved for clinician use only. iBreastExam costs £8,800/unit and is being used as a replacement to mammograms in countries with limited/no-access to imaging. Whereas Dotplot is aimed for at-home use to prompt users to go in for their routine scans and check-ups in time.
Traction
Funding
~£190,000
Team Size
6+
Milestones
The funding obtained thus far has been effectively utilised by Dotplot for various purposes, including filing a patent, expanding the team, app development, hardware engineering, prototyping various methods of locating device on the upper chest and conducting user tests with 82 participants. During the testing phase, 82 datasets were gathered on how users naturally move or position their hands while performing a self-check using Dotplot. The data collected is currently being analysed to enhance the accuracy of the device. The development process has been informed by over 200 interviewees from different customer segments as well as 25+ healthcare specialists involved in the breast cancer patients' journeys.
Public Engagement
1,600+ 
website sign-ups
3300+ followers
20+ 
notable 
mentions
250+ interviews
25+ Healthcare professionals
Looking For
Investors/VCs – healthtech and femtech focused/ pre-seed, seed
Doctors – Oncologists, Surgeons, Radiologists in breast cancer space
Regulatory Advisors – FDA guides
Potential Dotplot Ambassadors – People who have had breast cancer before and are willing to help us raise awareness about early detection
Breast Cancer Research Units and Groups- for future collaborations, breast tissue data banks