Bio
Rima is co-founder of Cleannest, the next generation nappy company. Rima is a passionate entrepreneur and self-made diaper engineer with an international background in e-commerce, digital marketing and consulting. She gained valuable experience in strategy and sustainability consulting at BDO and advised high-growth sustainable e-commerce businesses at Google. Rima holds a degree in Innovation, Entrepreneurship and Management from Imperial College London.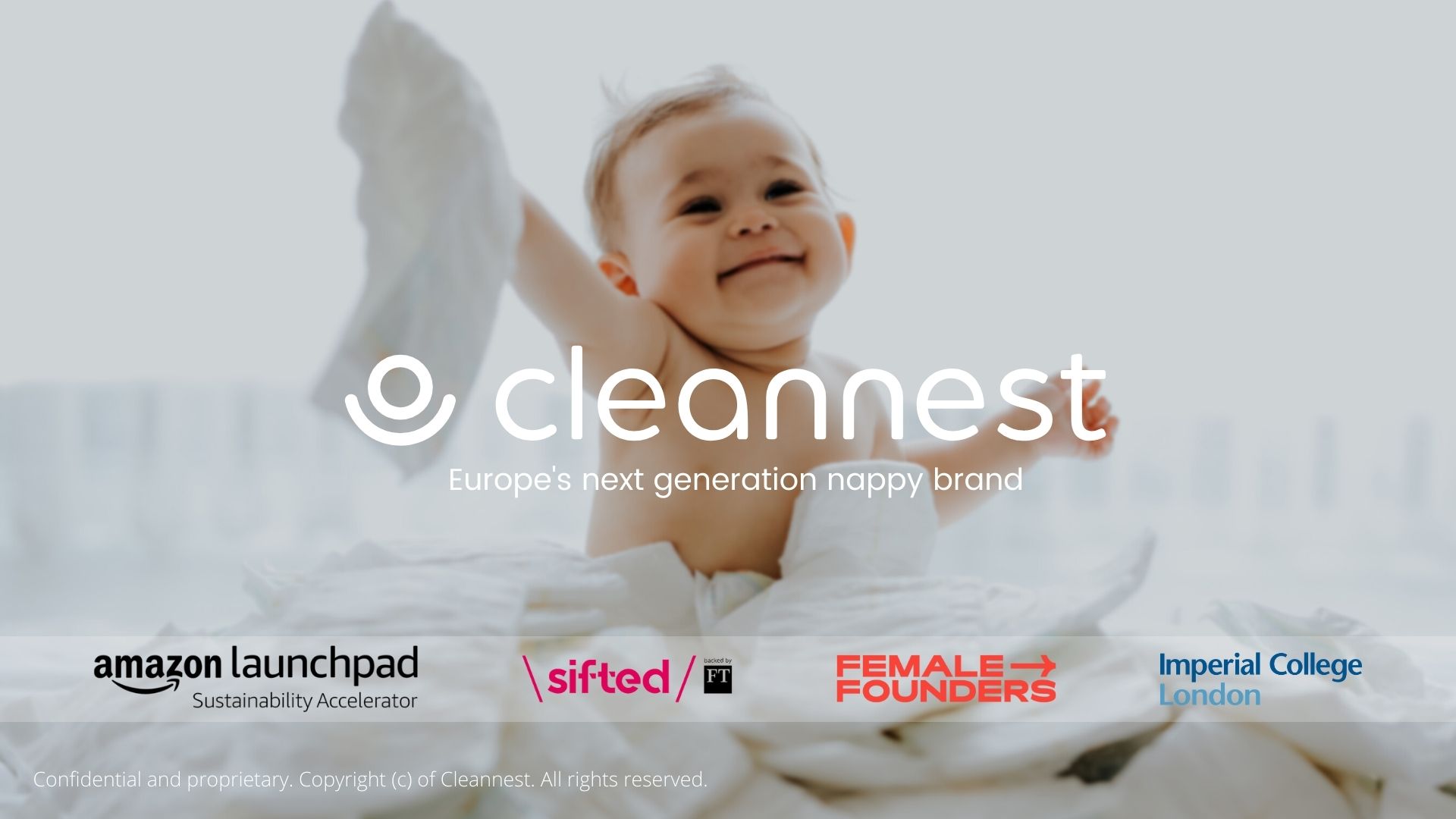 One sentence pitch
Cleannest is the next generation baby wellness brand bringing high quality products and innovation to baby care, launching the 'no compromises nappy' where category-defining performance and fit is combined with planet conscious design.
Industry / sector
Consumer goods.
Company investment stage
Pre-Seed.
Company location
Incorporated: UK; Co-Founders: London & Vienna.
Pitch deck
Problem
Nappies are the 3rd largest UK household waste, yet the eco-friendly diapers currently available don't hold up to parent's expectations – often leaking and tearing. Millennial parents understandably want nappies that work without costing the planet. So where's the middle ground between performance and sustainability?
Solution
Cleannest nappies perfectly balance performance and sustainability, modern parenting and timeless design. Cleannest delivers a monthly supply of nappies directly to customers over the 2.5 year period before children are potty trained. Our nappies are proven to have -40% CO2 emissions compared to traditional nappies (Climate KIC).
Business model
Differentiation stems from a combination of product quality, service design and branding. Our product performance, our brand vision for building an inclusive community, and our sustainability credentials that enable parents to have the convenience they want, need and deserve without sacrificing on product quality.
Cleannest customers subscribe to their monthly diapers and wipes subscription. The products are delivered to their doorstep – on-time, in the right size and in the right quantity. Our prices reflect the high-quality, category-defining nature of our value proposition and our hassle-free service. A monthly subscription to Cleannest is £65 with an additional £20 pounds for adding 4 packs of wipes. An added bonus – we save our customers from the panic of running out of nappies and wipes, as well as schlepping these bulky products home every few days. This leaves us with healthy margins that enable us to reinvest and, ultimately, bring 100% industrial-scale compostable nappies to market which is our longer term product vision.
Competition
Cleannest is lauching a new premium product category in Europe. Morgan and Rima are experienced brand creators with extensive experience in building communities. With our passion for bringing great mind together, innovating stale industries and breaking with taboos, we are convinced we have what it takes to make Cleannest the next generation nappy brand.
Traction
Recently completed the first Amazon Launchpad Sustainability Accelerator. Chosen as 1 of just 12 teams from more than 1,250 applications. Covered in Sifted: https://sifted.eu/articles/sustainability-everyday-alternatives-brnd/
Product development finalised. Conducted blind Beta trial in Germany with 100 families in May 2022 through 3rd party testing facility. 85% of families recommend Cleannest to a friend or family member. 62% mention softness as first impression in their comments, 60% less leakages across day and night use and 87% love our fit.
Were named as one of 20 top most innovative companies by Imperial College in 2021 as part of acceptance into the Enterprise Lab's Venture Catalyst Challenge.
Conducted more than 150 interviews with customers and industry experts.
Secured Trademark in the UK across 13 classes.
Looking for
We aim to meet US investors to prepare for our upcoming round (angels, VCs, family offices) and meet inspiring entrepreneurs from the e-commerce and consumer space. We would also be interested in talking to strategic partners in the R&D, product development and software space.
Book a meeting