Bio
Elena is the co-founder and CEO of Dama Health, a female technology start-up using AI analytics and genetic sequencing to personalise the way in which women are matched and prescribed contraception and other hormonal medication.
Before her entrepreneurial journey, Elena worked as a consultant at Merck KGaA's Innovation Center bringing early stage technologies into early stage businesses in the fields of 3D drug printing, antibiotic resistance and the fertility space. Elena holds a Bachelors degree in Medical Sciences and Epigenetics and a Masters degree in Innovation, Entrepreneurship and Management from Imperial.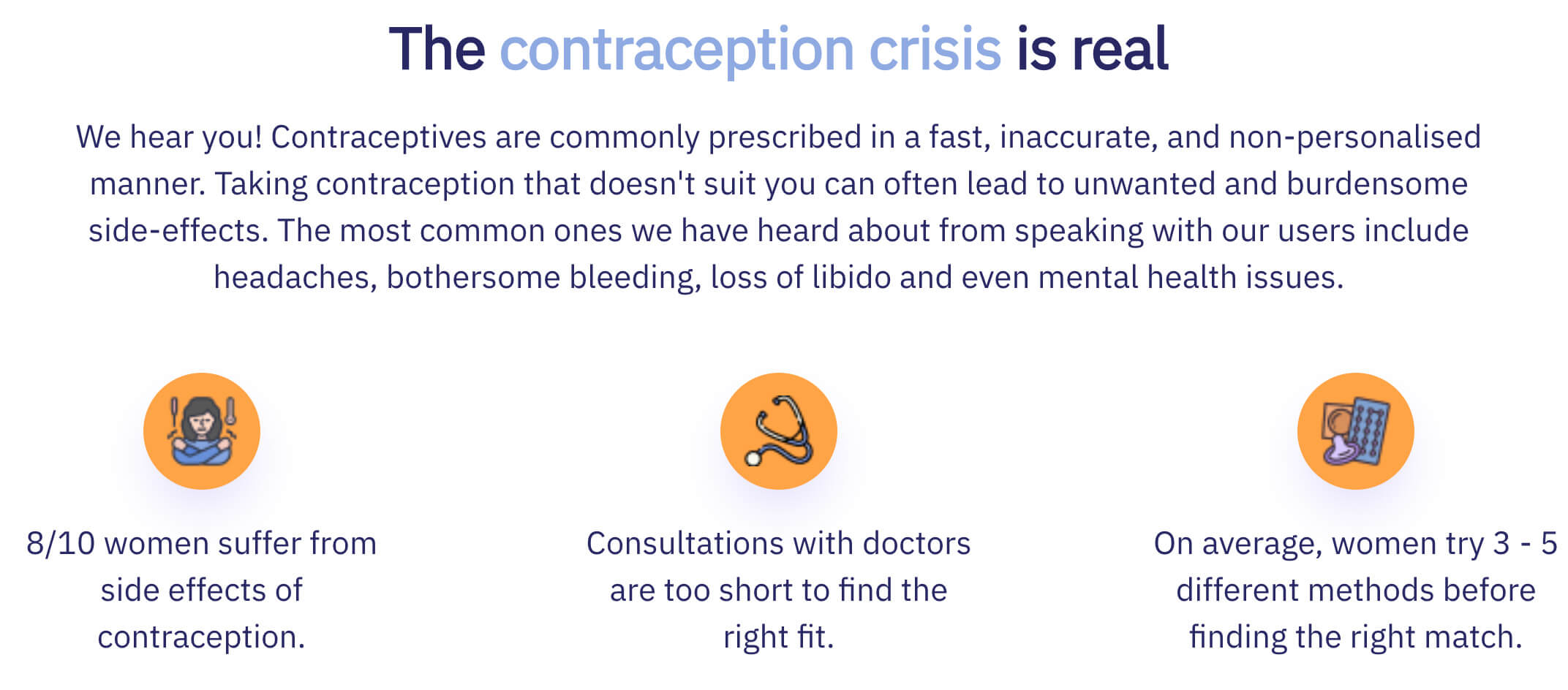 Once sentence pitch
Dama Health offers precision screening for contraception to identify the most suitable contraception type and formulation, empowering women, people assigned female at birth, and clinicians to make personalised reproductive health decisions.
Industry / sector
HealthTech, FemTech UK (looking to expand into US).
Company investment stage
Pre-seed raised from Angel Investors ~$500,000, raising Seed round in March 2023.
Company location
London, United Kingdom and Colorado, US.
Watch video
Problem
At Dama Health, we aspire to end the trial and error process of finding the most suitable contraception for individuals. On average, a woman will try at least 3.5 different types of contraception throughout her life before finding the right fit for her.
In that time she's likely to suffer from several common side-effects including depression, headaches, irregular bleeding, and loss of libido. Failure to identify the right contraceptive can lead to further health issues, more treatment and increased costs for the healthcare system.
Solution
Our digital health platform and proprietary precision matching tests (digital and genetic) match women to the best form of contraception. At Dama Health we believe you should be given the option to test it, and not guess it! Our offering identifies possible risks and side effects for women considering their contraceptive options, while simultaneously advancing scientific discovery in the field of female health and contraception pharmacogenomics. Our products and solutions empower women, individuals assigned female at birth and clinicians make safe and personalised birth control decisions.
Business model
Given the unique market that we are operating in, we have an opportunity to address various customers at different stages of our growth. Initially, our consumers will be women and users seeking to find private and personalised contraception support, however as we grow our product offering we envision our long term paying customers to be private health systems, including telepharmacies, insurance companies, or employee benefit schemes that will refer our product to their network, patients, customer in a B2B2C model. Our unique findings will allow us to also become involved in drug formalution development science in a B2B capacity.
Competition
Dama Health differentiates itself from its competitors through a broader and more thorough personalised, medical and genetic screening. Additionally, its algorithm takes into consideration participants' medical history, past experiences, and preferences to successfully suggest the appropriate contraception choice for each participant. Currently existing contraception matching tools offer a very superficial assessment which is insufficient to choose the right method of contraception. They also don't account for personal factors and preferences which are crucial when prescribing contraception.
From our analysis, our competitors offer a basic assessment followed up by a doctor's appointment through their platform and do not measure risk outcomes. Our screening tests not only address this gap but also allow us to automate the personalisation process without having to onboard doctors and limit scalability. We also aim to go down the medical device and regulatory route to be able to integrate and become a B2B and B2B2C company rather than a D2C like our competitors.
Traction
After our pre-seed funding round we have grown the team from 4 – 11. The funds have allowes up to successfully build out our digital platform and automate our screening solutions, which are ready for piloting in the UK. We are currently in the R&D stages of development and will be recruiting 500 participants for a clinical study in October of 2022 sponsored by the Illumina accelerator programme in Cambridge, UK. We have 1500+ users signed up to our waiting list, and growing.
Looking for
Looking to meet with investors (angels and VCs) interested in investing in the Healthcare and FemTech space. Interested in speaking to Gynecology and women's health clinics and researchers in the space for market research and possible pilot opportunities with our platform offering.