Bio
Dr Debesh Mandal is founder and CEO of Nanograb. He completed his PhD in computational biophysics at Imperial College London under the supervision of Dr Stefano Angioletti-Uberti who is a cofounder and the CSO at Nanograb. Since graduating from his PhD, Debesh has led the Nanograb founding team through the spin-out process and will be supporting the company through its next phase of growth.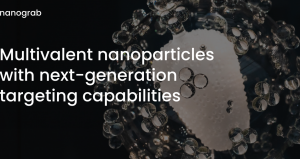 One sentence pitch
Nanograb is a computational drug discovery company that uses AI to generate the best combination of binders to treat different diseases. Our platform allows drugs to be targeted to very specific areas of the body
Industry/Sector
Biotechnology, Therapeutics, Drug Delivery
Company Investment Stage
Pre-seed
Company Location
London, SF
Pitch Deck
https://docsend.com/view/aizrekjbhn6hkiw9
Problem
Drugs today aren't specific enough, meaning that they don't only target the diseased organ or cells, but impact healthy tissue adversely as well. Physicians are then forced to administer lower doses of the drugs to limit side effects. The result is that 70% of phase I/II clinical trials fail due to safety concerns or lack of effectiveness.
Solution
Nanograb is the only platform that will enable drugs that target exactly where they need to be in the body, enabling the most effective dose to be used while minimizing any side effects. Nanograb does this by designing nanoparticles that will enable the precise delivery of payloads such as gene therapies or chemotherapeutic agents to exactly where they need to be in the body. The team is working on a new way to treat breast cancer and is generating the preliminary data packages after already developing lead formulations in silico.
Business Model
Our initial focus is on cell-specific gene delivery in the cell and gene therapy industry. In this space there are 500 products at these Phase I/II stage, and we expect to make $100m in revenue on average per product, totalling a market opportunity of $50b.
Competition
Current approaches to creating targeted drugs rely on brute force techniques that cause unwanted effects on healthy parts of the body. We actively avoid healthy parts of the body and this is baked into our computational pipeline
Traction
We have over $5m in LOIs from multiple biopharma players across the targeted drug delivery space including a letter of support from a top 10 public pharma company.
Looking For
We are looking for investors, especially those who like working with companies at their earliest stage. People who have experience working with UK-US companies as well as those interested in changing the healthcare of the world are of particular interest to us. We are also looking for pharma partners who are struggling with in vivo gene therapy and physicians across any speciality where targeted drug delivery is an issue.