Bio
Cai has a background in molecular bioengineering at Imperial College and combines data science, engineering and biology to make cultivated meat the affordable and sustainable choice, for everyone.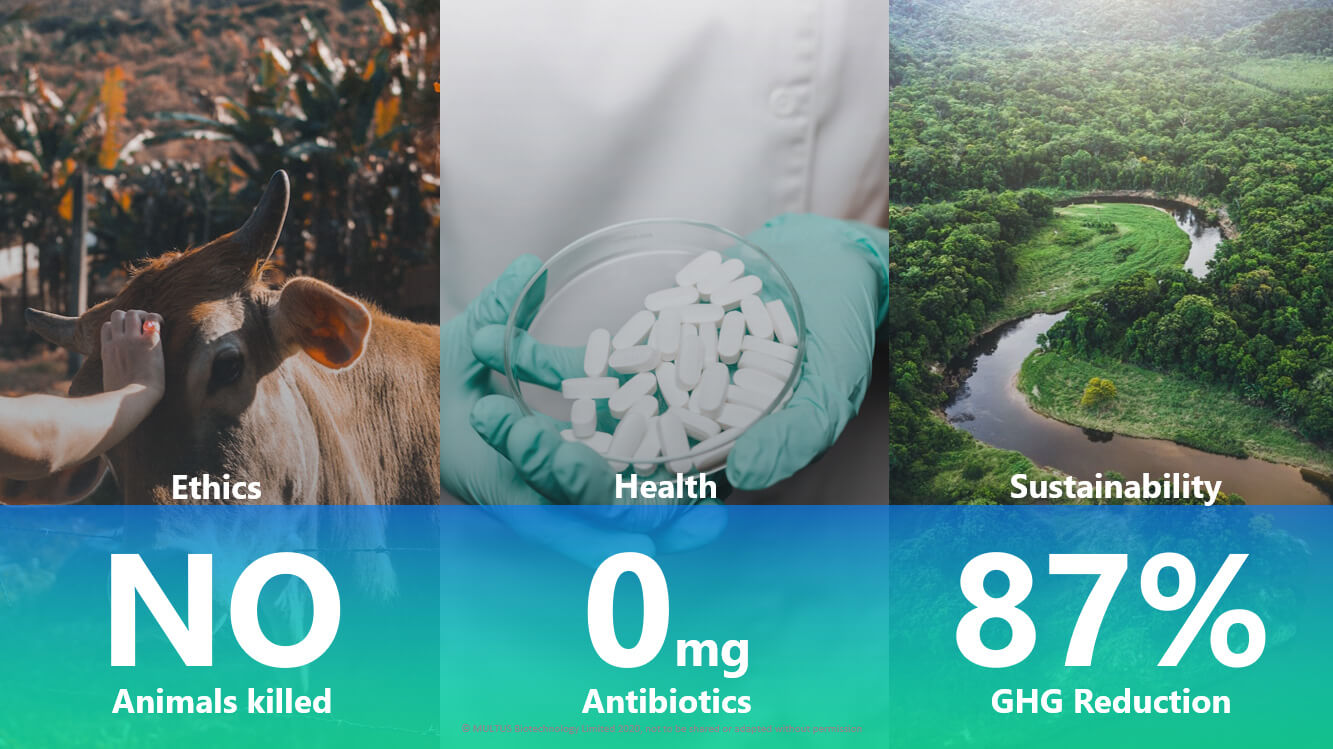 One sentence pitch
Multus creates the key ingredients to scale cultivated meat affordably and profitably.
Industry / sector
Alternative Proteins, global (Europe, N America, SE Asia being key markets).
Company investment stage
£2M from SOSV, Zero Carbon Capital, Marinya Capital + angels and government grant funding (UK and European Commission.
Company location
UK, London.
Watch video
Problem
Cultivated meat represents the first step-change in meat production technology for 10,000 years and promises to dramatically save GHG emissions, water use, land use and antibiotic use. The problem is that growing animal cells at scale is too expensive for the commercial viability, and existing solutions are designed for the biopharmaceutical industry.
Multus combines data science, engineering and biology to design a new way of growing cells affordably and profitably at scale for the food industry, using a unique ingredient design and formulation optimisation process. The co-founding team met at Imperial College and made it their mission to make cultivated meat the affordable and sustainable choice, for everyone.
Solution
Multus enables cultivated meat producers to scale affordably and profitably by supplying optimised nutrient solutions for efficient muscle, fat and connective tissue growth. The team uses data science to biodesign novel input ingredients and optimise their combinations to control cell behaviour at a fraction of the cost of existing solutions.
Business model
Multus supplies cultivated meat industry with advanced nutrient solutions and individual input ingredients. Our biodesigned ingredients are scalable, food-safe and can enable cultivated meat production to reach griddle parity using proprietary and patent-pending technology. We are also building cumulative knowledge in how cell behaviour can be affected by different combinations of ingredients using a unique combination of compuational modelling and data collection, enabling us to effectively optimise formulations for our customers' needs.
Competition
There are few companies focused on creating a full solution for growth media that meet these key criteria. Pharmaceutical companies with history in growth media production for the pharmaceutical industry do not have the ingredient supply, production capacity, or formulations established for the needs of the cultivated meat industry. Their established market in the pharmaceutical industry presents a large opportunity cost to undercut their existing customers and pivot towards cultivated meat producers.
Their existing products are optimised for specific cell lines that fall only within biomedical research/therapeutic applications and production facilities operated under cGMP standards do not meet food safety standards. Technology providers, such as Future Fields, Core Biogenesis and Biftek are focussed on a single dimension of growth media, such as the production of growth factors. The disregard to the source of basal nutrients, formulations means these products do not meet the needs of cultivated meat producers, leaving performance, scale, food safety and sustainability unsolved.
Multus is at the forefront of early development, with capabilities in growth factor engineering and growth media formulation. Multus' unique IP supported by their existing R&D production facility is driving down the cost of the growth medium significantly with an expected 100% reduction by 2024. In the Cultivated meat "gold rush" Multus will be the main supplier of growth media to this sector.
Traction
Multus launched its first product Proliferum M – the first all-in-one growth medium designed to grow muscle, fat and connective tissue for the cultivated meat industry – in February 2022 and have since piloted with over 40 companies around the world. We are in advanced discussions with several leading cultivated meat companies on supplying our proprietary input ingredients for commercial cultivated meat production. At their inception, Multus joined the world's leading life science accelerator programme IndieBio, have since secured $4.1M in funding to date and are soon closing a Series A funding round with VC and strategic investors.
Multus is an exceptional team of 13 and we are supported by world-class advisors and investors. We have support from selective programmes including IndieBio, GROW, EIT Food Accelerator Network, and the Royal Academy of Engineering Enterprise Fellowship. Multus has features in Business Insider, Tech Crunch, Food Navigator, Inverse and The Spoon and was named as a Leading Innovator in Sustainable Meat Cultivation Technology by ghp magazine's International Life Science Awards. Multus has raised >$2.5M in equity-free funding from UK Government and European Commission.
Looking for
As a new industry, many of the leading companies (Upside Foods, Wild Type, Orbillion, Finless Foods, New Age Eats etc.) are concentrated around the Bay Area. I would use this trip to meet in person with these companies. We are also fundraising, and have scope for a second close before the end of the year. There may be an opportunity to find new investors based in Silicon Valley that will join our mission and open doors for our next round of fundraising to Series A-B investors.
Book a meeting